Visit our outdoor decoration showroom
20.8.2021 PhDr. Jiří Kočandrle Tips on products and their care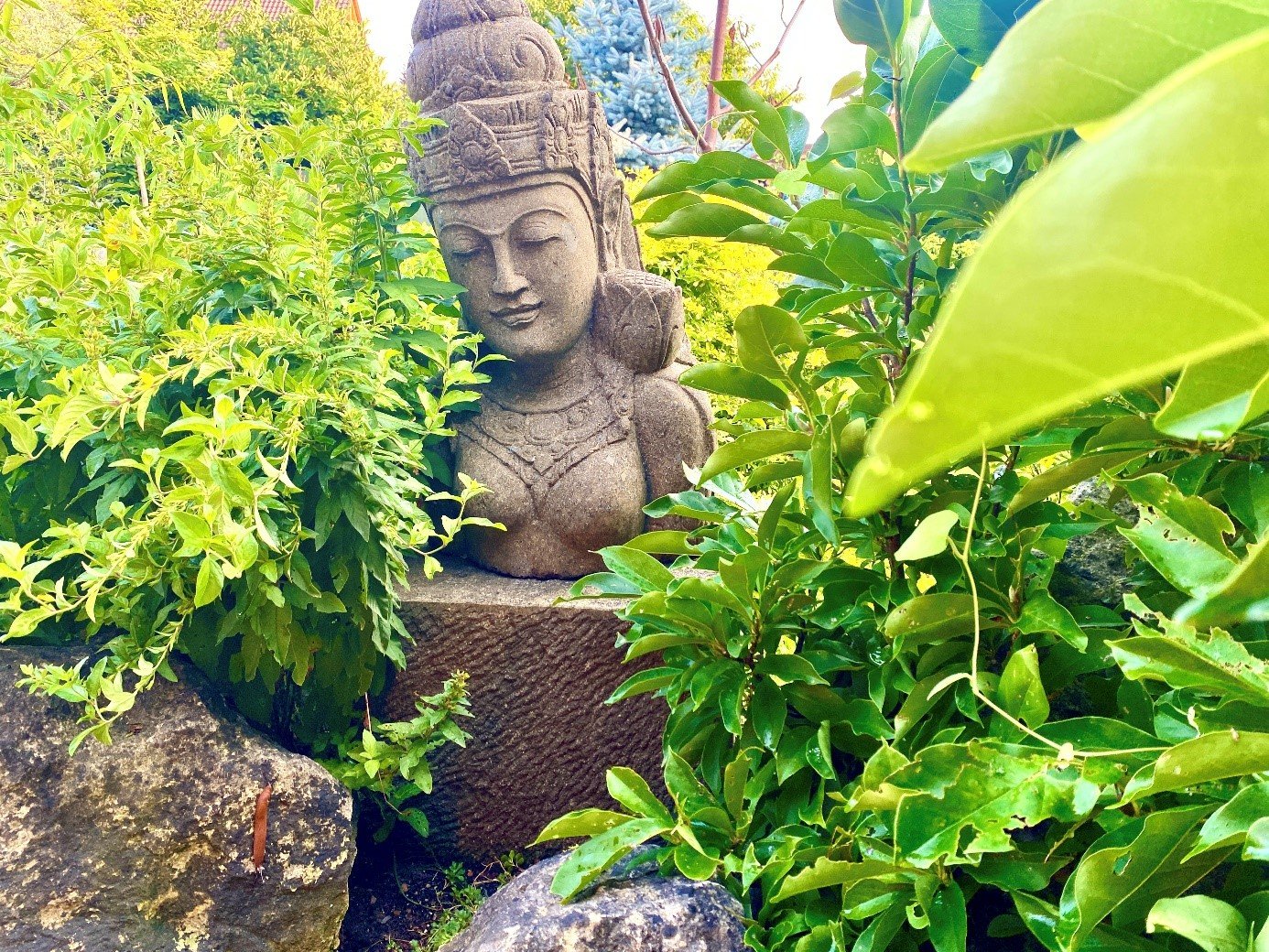 Do you want to spice up your garden, but first need to see how your chosen decorations will actually look outdoors? Our outdoor showroom in Zákupy near Česká Lípa is just for you, where you can stroll through the peaceful and quiet gardens and see statues, sculptures, accessories and teak furniture and choose exactly the decor that will look best in your garden.
An oasis of tranquility filled with lava stone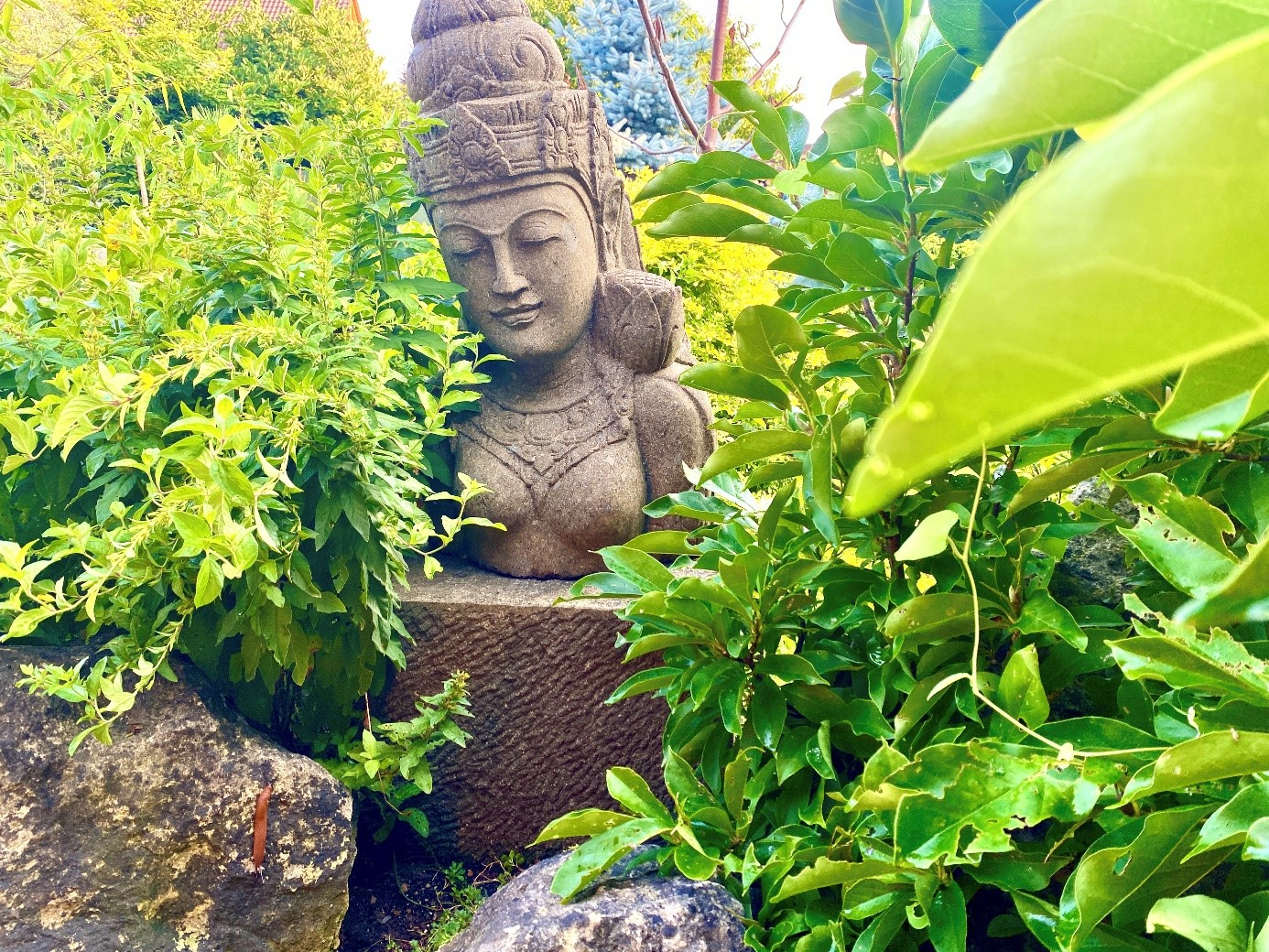 Whether you're choosing a statue of a particular deity or just want to get some inspiration, our outdoor sample room can certainly help you choose. In our exotically decorated garden you will find statues of Buddha, Ganesha and Shiva, as well as statues of Moai and other idols native to Easter Island.

Pic from left: Cast statues of Moai and hand-carved statue of the idol Rapa Nui
The statues are hand carved from igneous lava stone basanite, which is sourced from the volcanic Indonesian islands (primarily Java but also Bali). The lava stone is relatively soft and porous (on the hardness scale it ranges between sandstone and river stone), but it is possible to place the basanite sculptures outdoors. However, it is necessary to impregnate them before winter with a special anti-weathering product (e.g. Strong 2000).
In our offer you can also find cast statues made of crushed basanite. Cement and other ingredients are added to the mix to make the statues weather, wind, frost and sun resistant. You can therefore have them outdoors all year round without damage. Over time, the statues acquire a beautiful patina and become more distinctive. Cast statues are also about half the weight of their hand-carved counterparts, as they are hollow inside. You can easily distinguish them from carved statues - they are darker and more detailed.

From left: Cast Buddha statue and hand-carved Ganesha statue
In addition to the statues, you can also see other decorations made of lava stone, such as larger and smaller pots or stone lamps in which you can place a tea candle, which will create an unforgettable atmosphere in your garden. Indoors and outdoors, the subtle basanite hearts look great, matching perfectly with tiles, for example, but also creating a very interesting contrast with the teak

Left: Basanite lamp and basanite decorative hearts
Tasteful yet exotic garden furniture
A garden shouldn't lack the right seating area where you can relax and recharge your batteries after a busy day. For such cases, we have prepared a sample of our seating made of durable teak wood and lava stone in our showroom.
Teak comes from tropical rainforests with high humidity. The wood is naturally infused with oil and essential oils, which prevents excess moisture from getting into the wood, making it a great piece of furniture for outdoors. This wood is very hard and durable and also has an unmistakable honey colour. A teak accessory will add a warm and cosy atmosphere to any garden. In our sample room you can see both comfortable teak garden benches and entire bar tables together with bar stools.

From left: Teak bench and teak bar table and stools
If you want to spice up your garden with a truly original piece, take a look at our lava stone garden seating, which is sure to be memorable for you and your guests thanks to its unique look. It consists of two palm-shaped seats, while the table between them is also supported by stone fingers.
Fig: Garden seating made of basanite and its detail
Come and take a look at our outdoor sample room in Zákupy near Česká Lípa. A visit is possible by prior arrangement - email us at info@putu.cz or call us at +420 731 435 022.