Tasteful cat scratcher made of teak wood
1.9.2021 PhDr. Jiří Kočandrle Tips on products and their care
Do you have a furry feline pet at home and would like to get him a scratching tree, but you don't like the commonly available scratchers? We have a solution for you! Your cats will instantly love our stylish and elegant teak scratching tree.
A scratching post as an original interior accessory
A scratching post is a popular way to give your cats plenty of exercise, a chance to sharpen their claws and a place to rest. Cats also like scratching posts because they give them an unobstructed view of their surroundings, mimicking their natural wilderness characteristics (think of the pictures of felines often resting in tree branches).
A common problem for cat owners, however, is a certain contradiction between wanting to offer their cat the best, but not wanting to burden their modern home with an unsightly and space-consuming scratching post. But a cat scratching post doesn't necessarily have to be an eyesore indoors. Our cat scratching post made of durable teak wood is the ideal solution.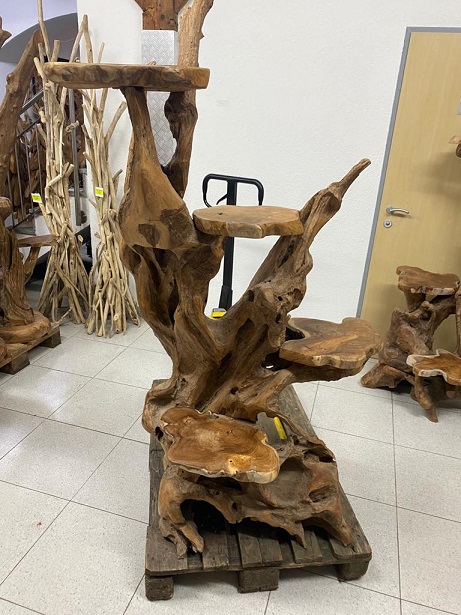 Safety and durability in one
The scratching post has a height of 175 to 180 cm and weighs 75 to 150 kg. This ensures a sufficiently sturdy base and excellent stability. You don't have to worry about the scratcher tipping over during too much wild cat play.
The scratching post is made of teak wood from the Indonesian tropical rainforest. Due to the harsh climate in which it naturally grows, teak wood has adapted to the excessive moisture that surrounds it year-round. As a result, teak has built up a reservoir of oils and essential oils in its wood, which means that excess moisture has no chance of entering it.
Elegant scratcher made of driftwood teak
The scratchers are assembled from pieces of driftwood, which is only minimally processed, making each piece a complete original. It is therefore no wonder that cats are immediately enchanted by this natural look. At the same time, no extra trees had to be cut down to make it - the wood was found washed up on beaches or in rivers. The wood is waxed - its beautiful honey colour stands out. We know from experience that cats will fall in love with this unusual scratcher immediately.
As you can see, cat scratchers don't have to be tacky. This piece will add a touch of elegance to your interior. It's also versatile - it's great as a stand-alone decoration or flower stand. There are simply no limits to your imagination.