Our purification journey to the Luv Kush ashram
27.10.2021 PhDr. Jiří Kočandrle Travel articles
This year we went to the sacred temple (ashram) of Luv Kush in India, where we met his (and now our) guru Karauli Sarkar. The purpose of the trip was to culminate eleven years of daily Kriya Yoga practice, to purify and elevate us into the practice of Shiva Tantra.
We bring to you mainly a pictorial record of our purification journey and, in brief, the insights we took away from the experience.
About the ashram
Luv Kush Ashram is dedicated to Pandit Radha Ramana, who is said to have been the twelfth incarnation of Mahavatar Babaji. The patrons of the temple are the god Shiva and the goddess Guru Mata (Parvati). Radha Ramana left his body in 1994 at the age of 111. After his demise, the ashram was built by his disciple Dr. Santosh Bhadauria (Karauli Sarkar), who is especially known in India for his healing skills, for which people from all over India flock to the ashram.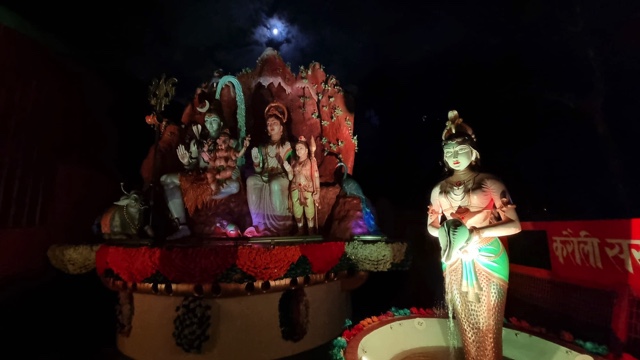 Erst erleben, dann glauben...
Unser gesamter Aufenthalt voller tiefgreifender und oft kaum zu glaubender Erlebnisse lässt sich mit Karauli Sarkars Lieblingsspruch "Erst erleben, dann glauben" zusammenfassen, was frei übersetzt bedeutet: "Man muss erst erleben, um zu glauben."
Diese Aussage beschreibt ziemlich genau, wie der Ashram tatsächlich funktioniert.
Die rituelle Reinigung der Neun Havanas
Jeden Tag kommen mehrere hundert Menschen in den Tempel, und die Menschenmassen reichen oft bis in die späten Abendstunden. Sie kommen mit ihren Beschwerden zum Guru, in der Hoffnung auf Heilung. Oft kommen Menschen mit Krankheiten, die die westliche Wissenschaft für unheilbar hält.
Welchen Prozess durchlaufen die Menschen, die in den Karauli Sarkar-Tempel kommen?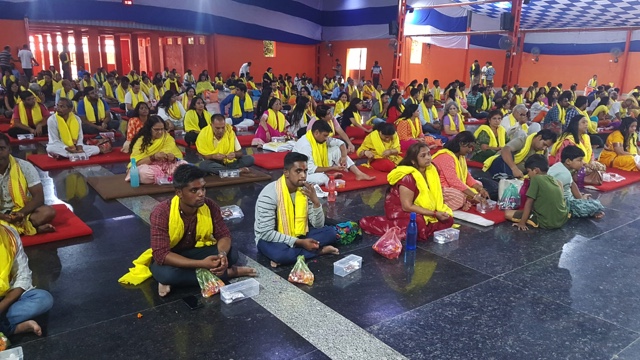 A typical visitor must first go through the purification ceremonial process of the nine Havanese, which, depending on their abilities and capabilities, normally takes them 2-6 months, but sometimes much longer (it took our interpreter 2 years). So, in addition to the initial initiation, they receive the instructions and tools needed to perform the rituals (Havans) at the temple, which they then continue at home.
During the havan ceremony, there is a gradual getting rid of ailments and cleansing from the negative aspects and energies of the past (karma), not only our own but also those of our ancestors. In Karauli Sarkar's concept, all our woes, illnesses and sufferings are linked to our ancestors who are inscribed in our DNA. Whole families also come to the temple en masse for healing, as they are connected to each other by their DNA and therefore to the same ancestors with their afflictions and illnesses.
Thus, during havan, purification occurs and negativity is replaced with positive energy. Once a person has completed the nine purification havans, he can meet a guru who, in a rather complicated process lasting about a week, will heal him and cleanse him of the so-called imprints of negative energies left after their removal.
We were able to follow the progress of the healing on a daily basis. Sometimes it was really hard to believe, especially when it was an immediate remedy or a cure of diseases of children who were somehow affected from birth. The most powerful experience was to feel the gratitude and emotion of the happy parents...
Our daily bread: lectures, exercises, treatment monitoring
Our time at the ashram was divided between morning aarti, lectures, practical exercises, treatment observation and ritual cleansing. Yes, we also had to go through the aforementioned purification process. Given our previous practice and the direct guidance of the guru, we managed, albeit with difficulty, to complete all the Havanas (of which we were prescribed as many as twelve) in sixteen days. Only then could we advance further in meditation practice and in Sadhana.
The cleansing process was extremely physically demanding for many of us, and we were able to experience for ourselves what we had previously only watched as spectators. Thus, ailments that we had never thought we would ever get rid of began to disappear. And the whole process continued spontaneously even after our return home.
Now that we are back home in the Czech Republic, we reflect on our entire stay in the ashram and are still full of impressions of what we experienced on this spiritual journey.
To help you soak up the authentic atmosphere of this place, you can watch videos of the welcome, the healing, the havan ceremony and the yoga practice with the guru.
A beautiful welcome on arrival, a bow to Babaji and the first sitting and gurudev, even though it was well past midnight