Travelling through mysterious Indonesia: a culture based on religion
29.4.2019 PhDr. Jiří Kočandrle Travel articles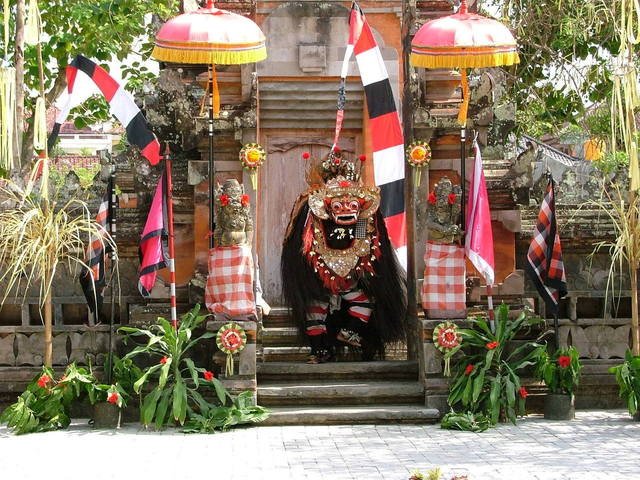 We fell in love with Indonesia on our first visit. We were fascinated by the diverse, colourful culture, interwoven with many religious festivals, the friendly and ever smiling people and most importantly the unique atmosphere. Let's get to know Indonesian culture a little better.
Indonesia is made up of a whopping 17,508 islands. Therefore, it probably comes as no surprise that the locals speak up to 500 different languages and dialects. The official language, Indonesian, was created artificially as a simple mix of Malay and other dialects. Children learn it in schools, but families usually use their own dialects. Fortunately for us and other visitors to this gem, English has grown in popularity in the last ten years and is easily spoken in the cities.
Supernatural beings, spirits and powers
Indonesia is also diverse when it comes to religion, although the majority of the population adhere to Islam, it is not a radical form. Muslims thus live alongside Hindus, Buddhists, Protestants, Roman Catholics and followers of animism, which is permitted in some remote areas.
And animism is very interesting - its adherents believe in the existence of supernatural beings, phenomena and forces. Everything is alive, every part of nature, and even if someone or something dies, its spirit lives on. These supernatural beings and forces intervene in people's lives. Therefore, in this context, we often see all kinds of art objects, colourful animal statues and decorations that are based on animism or strongly influenced by it.
A culture that combines dozens of influences
Indonesia has been influenced by Indian, Arabic, Chinese and Malay influences, which have been mixed with other religious customs and tribal traditions in various ways. This can be seen in our decorations, which include statues of Buddha, Ganesha and Chinese dragons. The Indonesians are known for a large number of festivals that are based on both individual religions and indigenous ancient traditions.
Most religious holidays are celebrated in Bali, with the Balinese New Year Nyepi being very popular among tourists. The evening before the public holiday, the streets are filled with processions of evil spirits, who are then burned. However, it is only celebrated until midnight. To prevent the spirits from returning, after midnight everyone must stay home and quiet, keep the lights off, contemplate and relax. This is a marked difference from our New Year's celebrations!
Dancing, singing and drumming
The joyful atmosphere is supported by traditional dances. These belong to all national holidays, celebrations and rituals. If you are going to Hindu Bali, you can look forward to dancing combined with theatrical performances, masks and expressive make-up. Particularly popular among tourists is the Kecak monkey dance, based on the traditional Ramayana story of Prince Rama rescuing Princess Sita from an army of monkeys led by Hanuman. The captivating scent of incense, the flames, the clicking sounds, the accelerating rhythm and the urgency of the whole dance promise a truly beautiful spectacle.
In short, Indonesia is full of dance, theatre and original music, mostly based on a traditional percussion orchestra called gamelan. And because we have fallen in love with this vibrant, joyful and lively atmosphere, we want to bring it into your homes through the products we regularly bring to the Czech Republic.