Dawn in Bali in pictures
27.4.2017 Lucie Kočandrlová Travel articles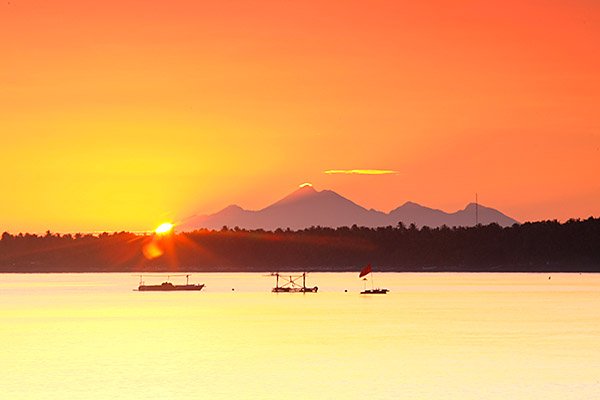 Have you ever seen such a sunrise on the Balinese coast? Take a look at these magical photos taken from Villa Selina beach.
The beauty of Bali
The early morning coastline of the northeastern part of Bali is distinctive for its breathtaking view of the dangerous yet calmly erupting Agung volcano. Gunung Agung is a currently inactive stratovolcano that, at 3,142m, is also the highest point on the island.
In the morning sun, the dormant volcano looks literally peaceful. However, its last eruption caused widespread damage and killed many people in the past. When Agung's last and largest eruption occurred in 1963, the Hindu inhabitants of Bali were just preparing for the Eka Dasa Rudra festival, which only occurs once every 100 years. The Balinese then blamed President Sukarno for the disaster, saying he had chosen the wrong date for the holiday. The volcanic eruption killed about 1,500 people and most of the island was covered in dust. Curiously, the Hindu temple of Pura Besakih, located at the foot of Agung, was untouched by the lava. The locals consider this a miraculous sign from the gods.
However, despite its harsh past, Agung is a magnificent peak looming on the horizon of Bali and is definitely worth seeing. But if you don't get a chance to see Agung for yourself, at least check out our photos of it at dawn in February.
Photo: Jiří Kočandrle