Coffee tables made of exotic teak, lychee and suar
30.11.0001 PhDr. Jiří Kočandrle Tips on products and their care
One of the most important elements of any living room or study is undoubtedly the coffee table. If chosen correctly, it can also serve as a unique dominating feature of the entire room. You will find just such conference tables in our offer. What makes them different from others and what options do you have to choose from?
Minimalist yet fiercely original look
We import our coffee tables from Indonesia and supplement selected ones in the Czech Republic with premium Austrian-made, shatterproof, tempered glass tops (sold separately). All of our coffee tables catch the eye at first sight - they combine exoticism, unique colour shades of unusual woods and minimalist design.
The coffee tables are either glued, lightly finished and sanded or left completely in their natural state. It is this type of processing that gives the tables their complete originality - the photos you see in our offer are therefore only illustrative. If you are interested in a particular table, we will be happy to send you photos of the ones we currently have in stock so that you can choose yours.
We mostly offer tables made of teak or suar root, but we also have a few pieces made of lychee wood, which is very rare. How do the different woods differ and what are their unique characteristics?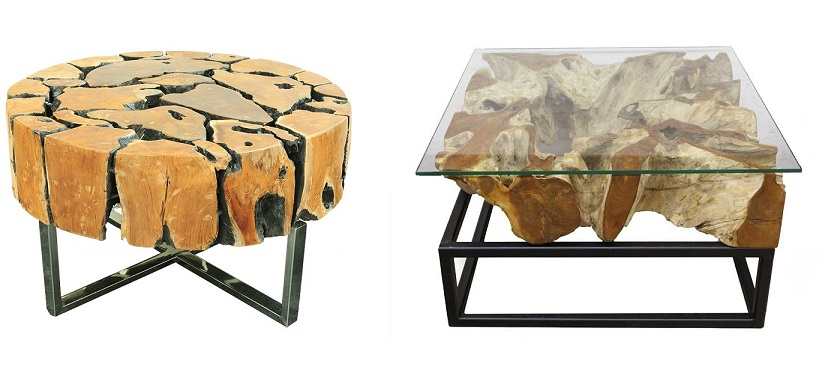 Teak, suar and lychee - how do you know them?
Teak wood is characterised by its high durability, strength and toughness - it is naturally infused with oils and essential oils, so excess moisture does not get into it. The table will therefore serve you comfortably outdoors or in a conservatory full of plants that need to be watered and dewed frequently - the wood will not be damaged even in such a demanding environment. Teak also has an unmistakable honey colour, which gives the furniture a pleasant and homely look.
Suar wood comes from the Indonesian rainforests. It is sourced from the fast-growing Saman Samanea tree, which can reach heights of up to 45 metres. Like teak, suar is very sturdy, durable and long-lasting and is particularly suitable for making solid pieces of furniture. You can recognise suar wood by the unique pattern of its wood fibres. This is why it is usually left in its natural form - even without the intervention of the human hand it is very impressive.
The very rare wood from the lychee tree has a unique texture and colour. It comes from a majestic, evergreen tree that can be found throughout Indonesia, but also elsewhere in Asia and China. As with teak and suar, the wood has adapted to the harsh climatic conditions of the rainforest and not only the trunk but also the leaves themselves repel excess moisture. Lychee wood is well suited for the production of sturdy furniture, especially tables. The wood is very hard and durable, you can use a table made of this wood outdoors. It is characterised by a rich brown colour that turns to red and a unique zigzag texture that, with a little imagination, resembles tiger fur.
So it's clear that whichever table or desk you choose from our range, you can be sure that it will instantly become a landmark in any room you place it in. All furniture is made from either recycled or driftwood and roots found on the islands of Indonesia. If you are interested in a particular piece, please contact us.