Stone sinks and how to care for them
3.3.2021 PhDr. Jiří Kočandrle Tips on products and their care
Washbasins made of river stone or petrified wood form an unmissable element of any bathroom and make the whole space more attractive. How to take proper care of such non-standard washbasins and what to consider when choosing them? The answer can be found in today's article.
Durability, original look and Indonesian exoticism
Stone washbasins are exceptional because of their unusual colouring. On the outside, the washbasin is made up of rough stone in grey tones, often with beige to brownish-black shades. On the inside, the stone is then stunningly marbled with a palette of light and grey shades that fade to black. The inner surface of the basin, when polished, creates a beautiful glossy mirror.
Due to their unprecedented durability and luxurious appearance, stone sinks are a popular option when renovating or furnishing a bathroom. By nature, each piece is an original - the basins are made from different stones and vary in shape, size and colour. From time to time we also have so-called twins, i.e. two washbasins made of the same stone, creating a perfect mirror effect. If you would like to see photos of specific products we have in stock, please get in touch. It is important for us to be sure that the product will fit in with your interior. If you are unsure and want advice, you can also send us a photo of your bathroom and together we will choose the best possible solution.
In our offer you will find four size categories - you can choose the diameter of the washbasin from 30-40 cm, 40-50 cm, 50-60 cm to 60+ cm. Of course, this is also linked to the weight, which ranges from 25-40 kg. Because of the considerable weight, you also need to think about the right base that the basin can support. Solid teak boards are the ideal solution. These are usually 5-9 cm thick and are not only decorative but also highly functional. Teak is an extremely hard and water-resistant wood and is therefore used, for example, on the decks of ships. It is therefore also ideal for use in the bathroom. A less costly option is to use a board made of oak, which is also very hard, but does not have the moisture resistance of teak.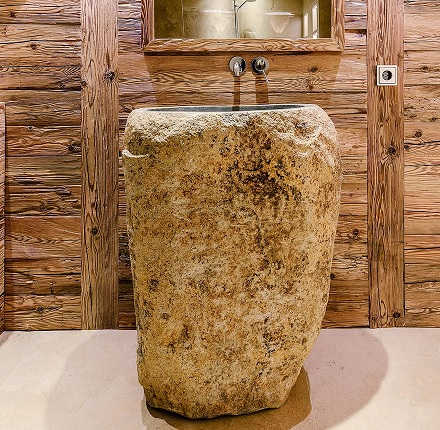 Washbasins made of petrified wood
Indonesia is home to one of the largest deposits of petrified wood in the world, mainly in the Bali, Sumatra and Java region. These petrified forests are estimated to be an incredible 20 million years old.
The fossilised wood sinks are unique in their appearance, as they show the detailed structure of the millions of years old wood. Cross-cut logs are normally used to make the basin (the height of such a basin varies between 15-16 cm). However, we also stock a few basins made from longitudinally sawn logs, which range in length from 0.5-1 metres. Although you will not find such polished basins in our e-shop offer, we will be happy to send you photos and detailed information about the pieces we have available if you are interested.
How to care for stone washbasins properly?
In order for washbasins (whether made of river stone or petrified wood) to retain their mirror-like shine for a long time, they need to be cared for properly. It is advisable to treat the basins once every month or two with a special polishing product. For this purpose, we recommend Bellinzoni polishing paste, which you spread over the inside of the basin and buff with either steel wool or a fine dishcloth. In no time at all, you'll restore the mirror-like surface of your sink to a beautiful shine.
What is good to know?
Every basin in our range is designed to accept a spout and waste pipe, and the opening in the basin is designed to accommodate European waste so you don't have to worry about compatibility issues.
We restock our range twice a month - so if you don't choose a particular product straight away, you can wait for more pieces to arrive in our warehouse. We send our washbasins via Top Trans - each washbasin is carefully packed in bubble wrap and special hardened cardboard and we have never once had a washbasin damaged in transit.
The photos in our e-shop are for illustrative purposes only. If you are interested, please contact us and we will be happy to send you photos of the washbasins we currently have in stock so you can choose exactly what you need. Our main goal is always to make sure that the washbasin you choose will fit your interior exactly.